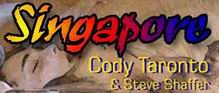 CHAPTER 12
Cody and TJ sat at the top of the stand, watching the spectacle. Cody could see Jason and Grant preparing for the next race, the 200m butterfly.
"Sugarman", Cody whispered.
"Huh?" TJ turned and looked at him.
"I'm wondering how well those two are gonna do with their sugar pills."
Jason and Grant looked strong. Cody saw Curt in the line up as well as swimmers from the USA, Australia and Poland.
Curt looked up into the stands. He had this feeling that he was being watched but couldn't see anything except the crowds of faces. He shook his arms and bent forward and touched his toes. He was aware that any girls in the crowd would have been looking at him. His red Speedos hugged his butt and his crotch and his well-loaded package was obvious. He stretched his arms above his head and his six-pack lines outlined the hard muscle of his gut and the smooth muscles of his hard pecs were taut as they stretched upwards.
Cody could feel the stirring in his groin. "What a fucking wanker," he thought, "and he looks like a really cool guy as well. Might've been friends if not for this drug shit."
Shane finished 4th in his race and his reaction was as if he had won gold. He jumped out of the pool after the signal, with his hands in the air and waving to his teammates and some of the supporters that had come from South Africa. Cody smiled at the little hunk and felt proud of him.
The electric buzzer sounded and the senior swimmers hit the water. Cody watched as Curt immediately stayed in line with the one Australian and the swimmer from the USA. Jason and Grant were both lying in 6th and 7th position. Jason's powerful arms pulled and pushed and he slowly edged his way to the swimmer ahead of him and moved into 5th. Cody was more interested in the progress of Curt. At the first 50 Curt turned in second place behind the Australian. The American swimmer was a head behind him. Jason powered his way to 4th place and was still gaining. Cody realised that he and TJ had done Jason a favor by swapping out the tablets. Jason was an awesome swimmer and Cody felt good that he was doing so well. At the last turn Curt and the Australian were neck and neck and then the most amazing thing happened. Curt flew ahead and kept putting more and more distance between him and the Australian. He touched the wall two lengths ahead of the teen from Aussie. He looked as if he couldn't believe that he had won and raised his one hand in triumph as those around him swam to congratulate him. Not only a winner, but also an Asian record as well.
Jason looked across at Curt, glaring. Then he heard the whistle from the stands. He looked up into the dark area of the stands and saw Cody. Cody waved at him.
"The fucker," Jason steamed through his gritted teeth. He jumped out of the pool at the signal and followed Curt. Grant was on his heels.
As Curt walked into the shower room he was pushed forward against the tiles. He turned and saw Jason.
"So, fucker. What was it that you gave me because it definitely wasn't what I bought? Or did you need to take mine as well?"
Grant stood behind Jason. "Fuck him up Jace. I'll watch the door." He moved to the shower entrance. Cody stood in front of him.
"I need to get in." Cody said, with a smile.
"Can't, place is packed."
"Move."
Grant almost laughed and then stood up to Cody, "Make me."
Cody's knee came up into his groin and sent an explosion through his body. He was even unable to scream as he grabbed his nuts and his knees buckled. His screams came out in soft screeches as he writhed on the ground.
When Cody came into the shower area, Curt had Jason on the ground by his throat and was about to deliver a fist to his head.
"That's not a good idea. Not with all the shit that you could be in."
Curt looked up at Cody in disbelief. "You're not supposed to be here."
"Yeah, I should be lying at the bottom of the pool."
Jason took advantage of Curt's distraction and his fist sent the Thai teen sideways across the tiles. Curt was about to take a flying leap at Cody when TJ walked in with Grant following, still holding his tender nads.
"So what the fuck happens now?" Jason stood up.
"I'm gonna swim in your place tonight at the final. Just the 100m fly."
"Not on your fucking life."
"Want me to pass the word about the tabs."
"To who?"
"Coach."
"Go for it. You're not swimming in my place. I haven't done anything illegal. And I haven't taken anything. I made the cutoff on my own."
"I know that. Cos your tabs were flushed."
Jason flew across the shower at him and Cody slid across the tiles. He managed to hit Cody once before TJ pulled him away. Cody's eye started to swell even as he stood there. Jason tried to pull out of TJ's strong grip, but there was no way he was going to get out of it. Cody walked up to him until their faces were almost touching.
"I'm swimming in your place. I've already arranged it. No medals. But I'm swimming against Ian Thorpe. Not because I think I'm better, but because it will be the biggest rave of my life to just be in the same pool as him."
"You've done fuckall training. You'll embarrass the whole fucking team."
"You're the fucking embarrassment Jason. You're the team captain. Everyone is supposed to look up to you. You and shithead over here."
Grant didn't dare look at either of them.
Curt came up to them. "I'm leaving. See you in the race then Mister Bond."
"And after the race. I'm coming for you."
Curt laughed, "You've got a death wish then. But hey, I'll be waiting."
Cody and TJ had spoken to the team management before the start of the finals and arranged for Cody to swim as an invitation swimmer in the final of the 100-meter race. He was not going to be eligible for any medals and one of the South Africans would have to step down to give him the place in the final ten. The one was Jason, the only qualifier.
TJ sat on a metal chair in the change room. He watched as Cody pulled on the green and gold Lycra swim shorts of the South African team. He knew what this meant to Cody and hoped that his friend did not embarrass himself too much.
On the other end of the change room, full of swimmers, was Ian Thorpe. Thorpedo, as he was commonly called, was new to butterfly and still had to prove himself a record setter in the discipline. Cody walked up to him and stuck out his hand. He looked up as Thorpedo stood his full height, way above Cody's head.
"Hi, I'm Cody. Just want to say it's really awesome to be in the pool with you."
Thorpedo smiled and took Cody's firm grip. "Same here mate. Good to meetya."
As the swimmers walked to the starting blocks, Cody heard his name amongst the ten finalists. The announcer said that he had come in as an invitation swimmer for the injured South African finalist. Cody puffed out his chest and lifted his hands to the roar of the South African contingent. It was one of the proudest moments of his life. Thorpedo was in lane 5 and Cody was in lane 8. Damn. Nevertheless, it was cool just to share the water with him. Cody looked at the line up. Curt was there in lane 6, his cut body highlighted by the snug red Speedos.
They were called to the blocks and stepped up. Cody bent down, touched his toes a few times, and did a few backbends.
"On your marks."
The buzzer went and Cody dived. It was a perfect entry, shallow and clean. His shoulders came up out of the water and he took his first stroke.
TJ had already bitten the nails off the fingers of his one hand and was progressing well with the fingers of the other.
"C'mon Cody. Just don't be last. That'll be the fucking best, if you're not last."
TJ watched as they went for the turn. The fifty meters seemed to take forever to complete. Three swimmers turned simultaneously, Curt, Thorpedo and an American. TJ had to double take, as Cody turned fifth. "OH MY FUCK!"
"GO CODEMAN!" he screamed at the top of his voice. People in the crowd realised who he was screaming for and took up the chant. "GO CODEMAN!"
Cody's muscles burnt as he powered his way through the water. The turn was his signal to increase his effort and kick into a faster gear.
Thorpedo pulled away from the other two swimmers and the Australians went crazy. Curt started to fall back and inch-by-inch Cody overtook him. Neither of them realised what was happening. Cody was third. The crowd was going crazy. With twenty meters to go, Cody was neck and neck with the American. Thorpedo could not gain any further ground and it looked like the two swimmers were quickly closing in on him. With five meters to go, the result was known.
The crowd was on their feet as Ian Thorpe touched the wall, split seconds before the American who was a hundredth of a second ahead of Cody. Cody looked around him to see how many swimmers were in. It was only when the results came up on the electronic board that he realised what had happened. He raised his one arm. He swam over to Thorpedo and congratulated him. Then he swam to the American swimmer. Jack Short, the 17 year old had floored him on the first day.
"Hey Jack, awesome swim."
The American smiled at him, "Well I dunno bud. Another ten meters and you would have taken me. Where the fuck do you get that talent? You shoulda been in the team. The fucking medal belongs to you man."
Cody just smiled back, "Yeah well, I wasn't even supposed to be on this tour."
The swimmer that came 4th was Curt. Because of Cody's status, he had earned the bronze medal.
The crowd was still going crazy in the stands. If anyone had to turn to look at TJ, they would have seen the tears down his cheeks. He had never felt so proud of anyone in his life.
They got out of the pool and Cody pulled his track pants and top on. He felt a hand on his shoulder. He turned and looked up at Ian Thorpe.
"Hey Cody. That was a fine swim mate. Very fine. Goodonya. Pity about the medal though, you earned it."
Cody tried to stop the tear but it sped down his cheek as Thorpedo took his hand. And all he wanted was to be in the same pool as his hero. "Yeah thanks. Congratulations on the win. That was way awesome."
"I had to swim my ass off to get away from you mate. Anyways, well done. That was a ripper. Seeya in the pool soon."
Another hand was put on Cody's shoulder.
"Mr. Taronto, I need you to come with me for a drug test."
"Yeah, cool." Cody followed the man to a room near the change rooms. Curt was walking out as Cody arrived.