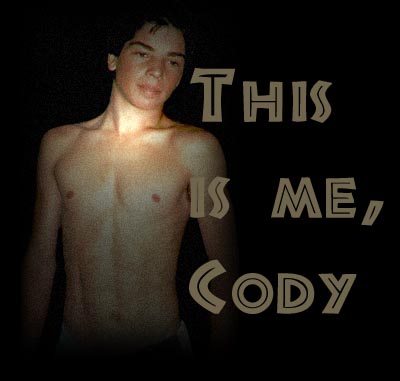 About Cody's site

Cody was 15 when he started Codyspad. Shortly afterwards, he met TJ who became Cody's best online friend. The relationship inspired them to write a number of erotic stories which you'll find in the CodyTJ section. Cody published his news pages from the late '90s until 2000 when his host (Tripod) trashed part of the site. Cody was devastated, of course, and felt like giving up. But his supporters convinced him to continue. In October 2001, Cody had just received news of his acceptance as a varsity student to study Marine Biology.

Following Cody's tragic death in November 2001, Dave (Hotguyz) and François assisted one of Cody's best buds Steve to rebuild the site files. Dave then published the site on his servers. Steve added his own updates (in gold). He also found Cody's final news page unpublished in a drawer in Cody's room. Meanwhile, Brazilian friend João also found some missing pages on his own comp and offered them for inclusion. For the next two years, Steve continued to manage the site and contribute his own 'Drivel' pages in honor of the best friend he ever had.

Eventually, Dave experienced problems with his servers which meant that Steve could no longer publish his 'Drivel' updates, despite several attempts. Dave then mysteriously vanished from the net. Cody's site was re-published at Gary's hosting (MrB Stories). Brian "The Pest" found the last missing news pages (without pics - news 16-17-18). A great surprise email came in May 2012 when Peter from the UK found 60 more of the missing pics still on his comp for the news pages 16-17-18. Only a few still remain missing.

Steve was focused totally on his varsity studies and departed the internet, leaving Cody's site as it was. In 2010, codysworld.net lapsed and Gary registered codysworld.com. Another friend, Greg lent his support and skills to update Cody's site to what you see today. Apart from the main entry page, the MrB Stories section, and Steve's Drivel, Cody's World is exactly as Cody left it back in 2001.
Cody's Death

November 3rd 2001... "Cody had a few beers after work with his friends, then hitched a ride home. He was unfortunate enough to get a ride with a speed freak, who crashed the car at 160 kph. Both occupants of the car died - Cody later on the operating table in hospital, due to horrific injuries. He never regained consciousness. His ashes were scattered at his local beach about two weeks later, attended by his dad and best friends, all on surfboards." Gary
"Everyone has the right to be respected for their differences,
and the responsibility to respect others for theirs." Cody
Cody signed all his emails with that quote. He loved to inspire people, especially young people with problems about their sexuality. He was a great example to others. His youth belied his wisdom and maturity, but it was always tempered by his scallywag sense of humor. Cody was one in a billion. We, his friends and fans, are proud to keep him "alive" for the benefit of all who may be fortunate enough to cross his path.
Long live the Codeman.